RHA, Ashford Gallery; A Demarcation of Time
Curated by Sarah McAuliffe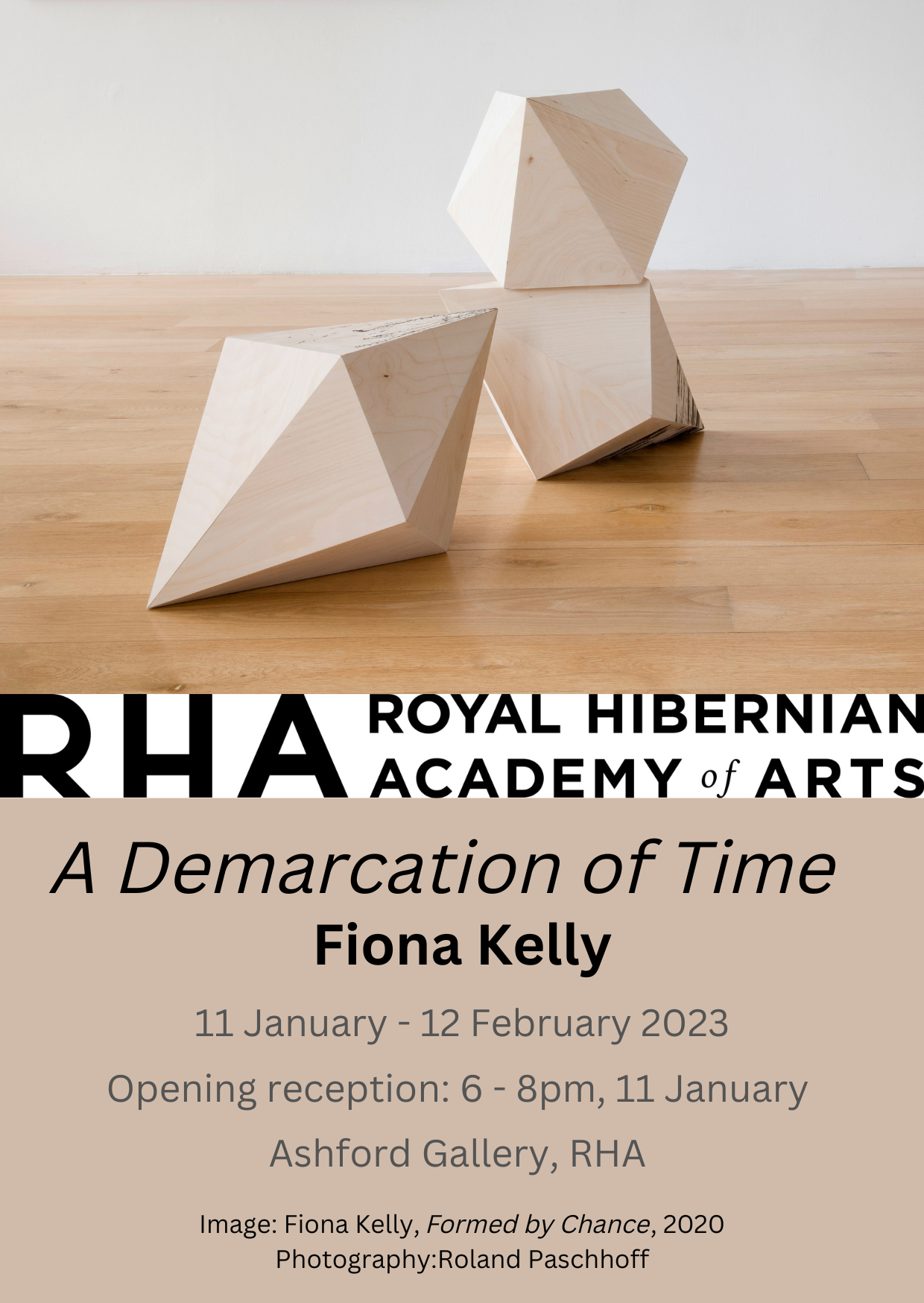 For this Ashford In-conversation event, Fiona Kelly will discuss her exhibition, A Demarcation of Time with Chris Clarke, Senior Curator of Exhibitions + Collections at The Glucksman, Cork. This discussion will provide fascinating insights into the practices of both speakers and offer an intimate look at Kelly's exhibited artworks, as well as her interest in the metamorphosis of territory, both urban and rural, in an age of environmental crisis.

For more information, please visit the RHA website, here.





PAPER VISUAL ART
Review by Sarah Kelleher


Delighted that Sarah Kelleher beautifully reviwed by exhibtion at SIRIUS A Temporary Iteration.

You can buy an issue on the PVA website here!

With contributions from Rosa Abbott, June Caldwell, Simon Critchley, Adrian Duncan, Orit Gat, John Graham, Louis Haugh, Aleksandar Hemon, Juliet Jacques, Sarah Kelleher, Vincent Le, Marcela Mora y Araujo, Rebecca O'Dwyer, David Smith, and Claire Walsh.

September 2022
Launch: Friday, 23 September, 6.30 p.m., Dalymount Park, Dublin
Design: an Atelier project
Kindly supported by the Arts Council
ISSN: 2565-6376






Künstlerhaus Dortmund
The point of truth, beauty & knowledge.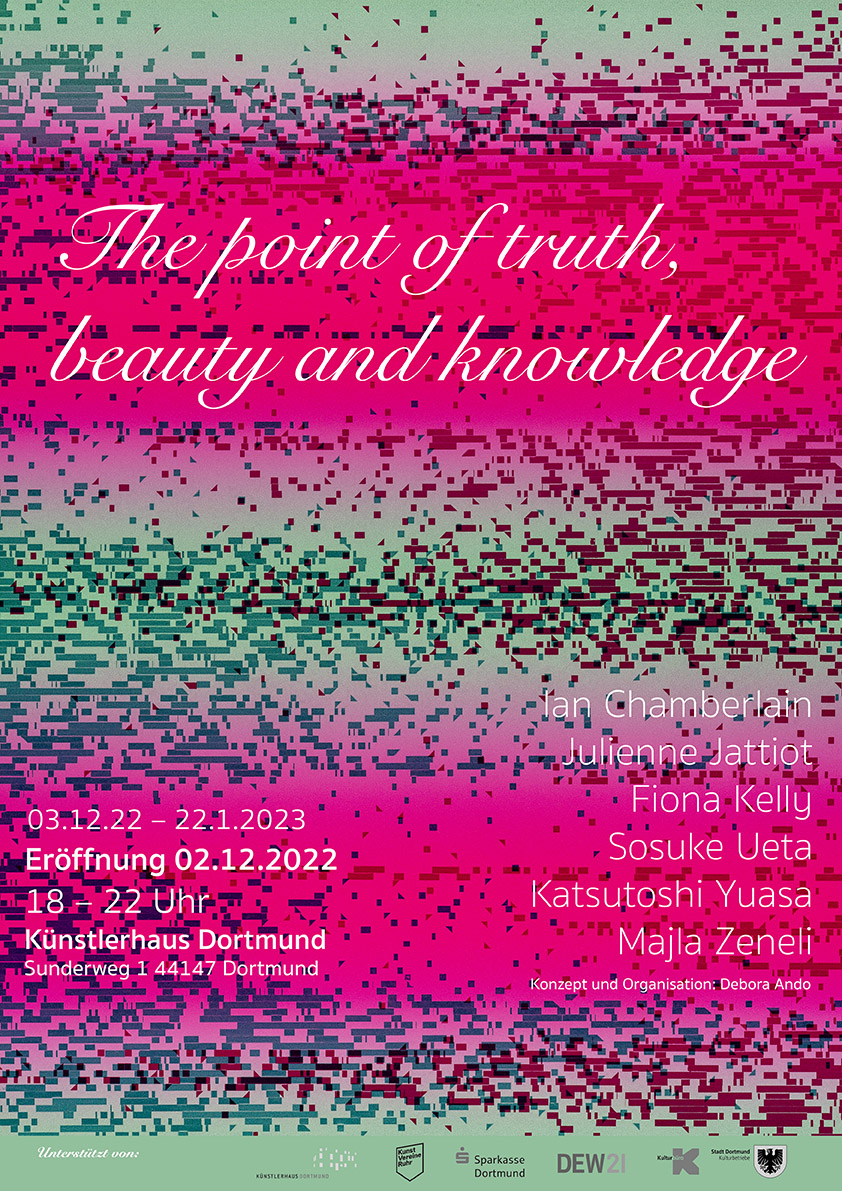 I am delighted to invite you to the opening of the exhibition The point of truth, beauty and knowledge. The opening takes place on December 2nd, 6–10pm, Künstlerhaus Dortmund, Sunderweg 1, 44147 Dortmund. Please find more details on our Website

The point of truth, beauty and knowledge presents six positions whose artistic explorations reflect current investigations on the poetics of contemporary printmaking. These embrace intrinsic qualities of two- and three-dimensional surfaces, whereby the conception of individual cosmos emerges, manifesting and contemplating the role and relevance of art in current times.

Artists: Ian Chamberlain (Bristol, England), Julienne Jattiot (Leipzig/Berlin), Fiona Kelly (Cork, Ireland), Sosuke Ueta (Tokyo), Katsutoshi Yuasa (Tokyo) und Majla Zeneli (Berlin)





Graphica Creativa 2022
Jyväskylä Art Museum




Honoured to be one of the selected Artists for the Graphica Creativa Triennale 2022.
Future Forests travels to Finland!

Graphica Creativa is an international print exhibition organised every three years in Jyväskylä since 1975, and at the Jyväskylä Art Museum since 1998. Graphica Creativa is the oldest exhibition of international printmaking organised in the Northern countries and the only reoccurring exhibition of international printmaking in Finland.




A Temorary Iteration
SIRIUS Arts Center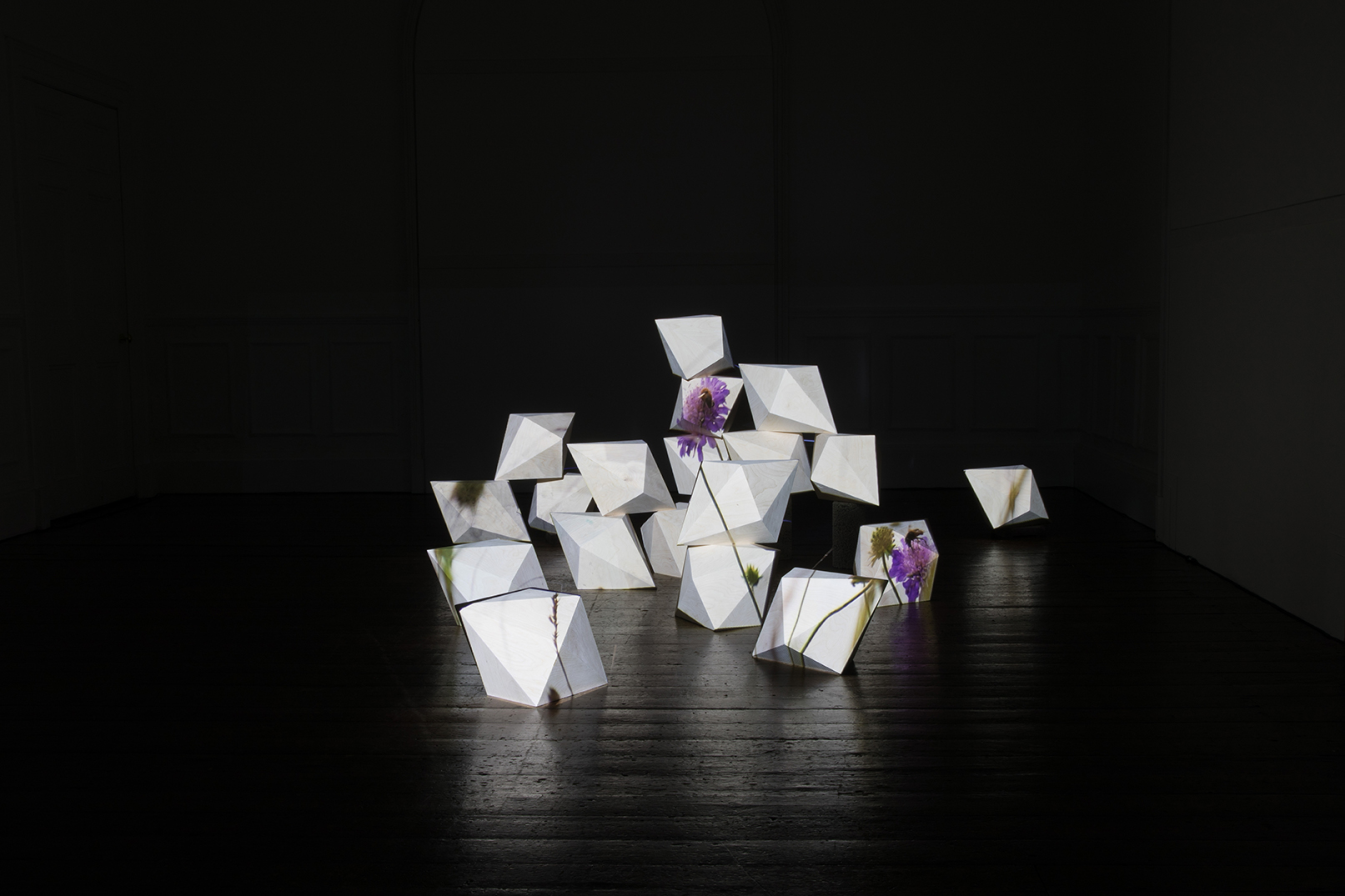 Fiona Kelly depicts landscape through a variety of means and mediums, but always comes back to its very foundations—earth itself and geological stratigraphy. In this project, she engages with the esker, a distinctly Irish landform. The project evolved through an artist residency at GannonEco, a plant located in a disused industrial quarry along the Esker Riada that repurposes matter and by-products of industrial manufacturing.

An esker (or eiscir) is a low-lying ridge composed of sand, gravel, and boulders deposited during the Midlandian Ice Age. The Esker Riada is the key example in Ireland, connecting east and west and separating north from south. Its name indicates its geographical and social significance, as eiscir means "divide" and riada means "road" in Irish. For centuries, eskers have established lines of communication and served as prime agricultural areas. Today they are a valued source of urban construction material, especially sand and gravel. This large-scale exploitation of natural resources is evident from the many industrial quarries along the Esker Riada.

A Temporary Iteration combines sculpture, moving image, and sound. Nineteen 3D pieces replicate the shape of a scalenohedron, a crystal formed from calcite. The properties of calcite make it one of the most widely used of all minerals; it is employed as urban construction material, abrasive, agricultural soil treatment, pigment, pharmaceutical component, and more. It is the principal constituent of the Esker Riada.

The objects lie on the floor and on top of each other, arranged to simulate a terrain. Their various planes operate as projection screens, momentarily holding footage of dynamic landmasses; organic matter such as earth, grass, and flowers; a re-wilded quarry; and pseudo-mountains of raw and unprocessed waste at GannonEco. Complementing this are ambient sounds recorded inside waste storage warehouses; sounds of falling glass and matter from debris piles at GannonEco; and ambient sounds and birdsongs collected along the Esker Riada.

Kelly's imagined topography shows the esker's ruination from extractivist activity and its current status—somewhere between a utopian return to nature and the realities of extractive land use. More broadly, the work points to the Irish landscape as an over-tapped natural resource, full of political and environmental disturbances and highly emblematic of Ireland's historical and contemporary geological and social conditions.


Produced by SIRIUS.
Artist supported by the Arts Council through a Project Award 2021.
Launch event: 7 May, 2-4pm.
Exhibition tour and panel discussion with Fiona Kelly, Miguel Amado and curator Rayne Booth.




THE SPACE WE OCCUPY



Curated by Miranda Driscoll.


An exhibition of work by Irish visual artists Ailbhe Ní Bhriain, Fiona Kelly, Katie Holten, Colin Crotty, Neil Carroll & George Bolster, curated by Solas Nua's Executive Director, Miranda Driscoll.








The Space We Occupy is a group exhibition of work by six visual artists based in Dublin, Cork and New York City. The artists represent the depth and breadth of contemporary visual art being made across the island of Ireland today and by the many Irish artists who call the U.S. home. The works consider our relationship with place and time; from the macro to the micro—Earth's place in the solar system, humankind's brief time on Earth, the place we occupy in community and the physical relationship between artwork and viewer.

Originally conceived to mark the opening of the New Irish Arts Center building in New York, the exhibition now travels to Washington, D.C., to occupy the spectacular Whittle School and Studios in the North Cleveland Park neighborhood. Formerly used as the U.S. headquarters of the International Telecommunications Satellite Organization (Intelsat), the building is known for its futuristic, high-tech architecture. Designed by the Australian architect John Andrews, Intelsat's design became an important model for environmentally conscious and energy saving architecture. At the time of its construction, the new Intelsat headquarters was one of the first green buildings in Washington, D.C. The building was later re-envisioned by Italian architect Renzo Piano.

The Space We Occupy will be opened by Ambassador Daniel Mulhall, Ireland's Ambassador to the USA, at 2pm on Saturday 09 July at Whittle School & Studios, 3400 International Dr NW, Washington, D.C., 20008. This exhibition, which runs until Sunday 31 July, originated at the Irish Arts Center in New York City and is supported by Culture Ireland.


BOTANICA: The Art of Plants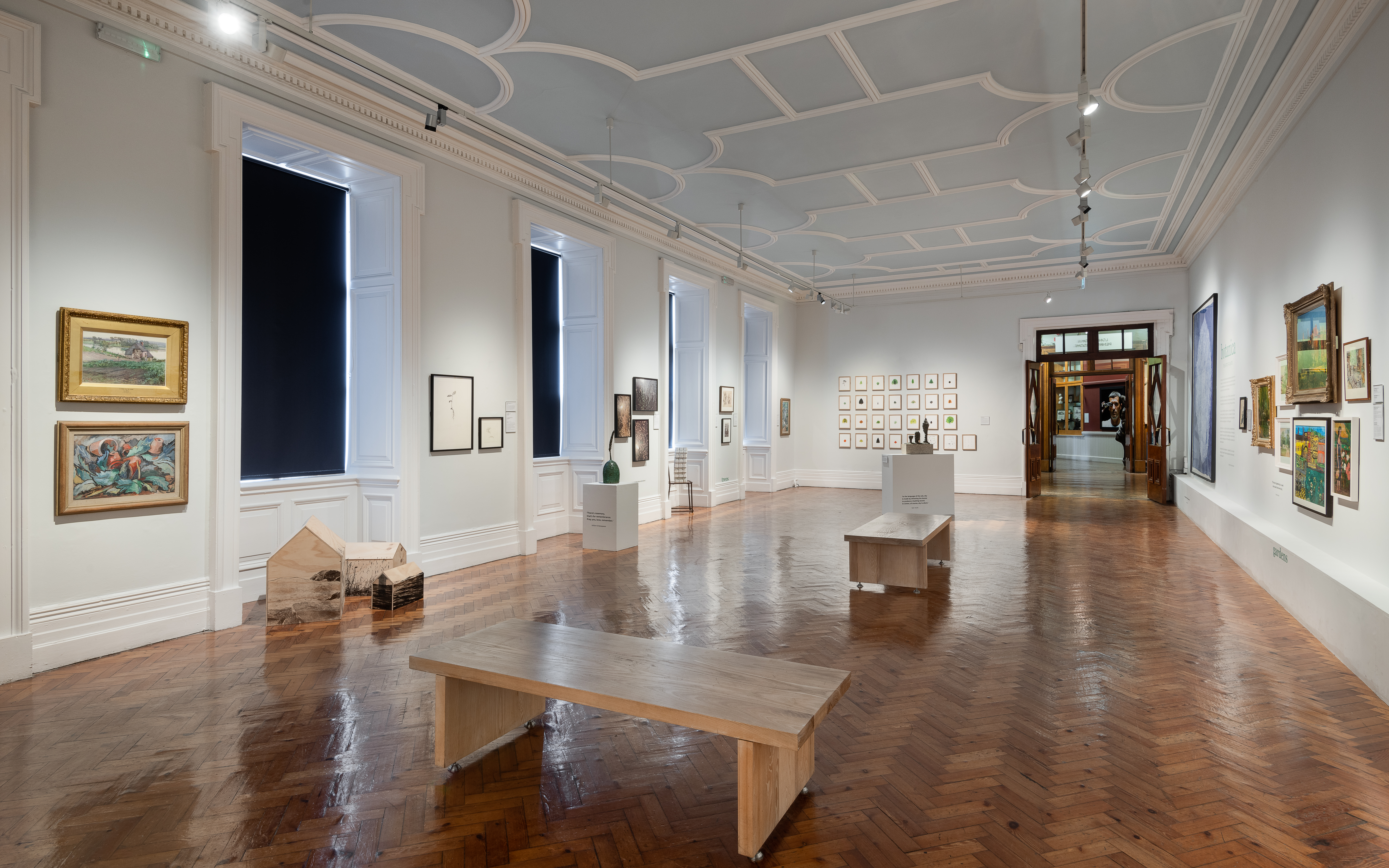 17 March – 25 September

BOTANICA: The Art of Plants gathers selected historic and contemporary works from the collection to probe how artists have, over time, represented plants in their practices through pastel, pencil, paint, print, and sculpture.

Running from spring to autumn, this exhibition touches on the histories of plant collecting – and ethical questions of colonialism that arise from it – and considers the place of gardening, the hidden meanings of flowers, and the medicinal applications of plants, among other themes.

BOTANICA offers a timely reflection on our relationship with plants. Indeed, just as the pandemic has underscored Millennials' increasing attraction to caring for houseplants, our impact on the environment and biodiversity has come to define a new geological age: the Anthropocene.

In art, plants have figured as accompaniments to important themes, borne symbolic meanings, and emerged as subjects in their own right.

In this exhibition, the selected artworks range from landscapes and still lifes to botanical and arboreal studies. Are there encoded meanings in flowers? What are the medicinal qualities of plants? Can trees speak?

BOTANICA features artworks by Emily Anderson, George Clausen, Thomas F. Collier, Sylvia Cooke-Collis, Susanna Adelaide Deane, Augustin Amant Edouart, Gerda Frömel, Debbie Godsell, Patrick Hennessy, Katie Holten, Evie Hone, Marshall Hutson, Mainie Jellett, Fiona Kelly, John Lavery, Maurice MacGonigal, Robert Matthews, Nellie Möckler, Rosaleen Moore, Sarah O'Flaherty, Monica Poole, Kathy Prendergast, Dod Procter, Vivienne Roche, Nigel Rolfe, Harry Scully, and Jennifer Trouton.

Curated by Michael Waldron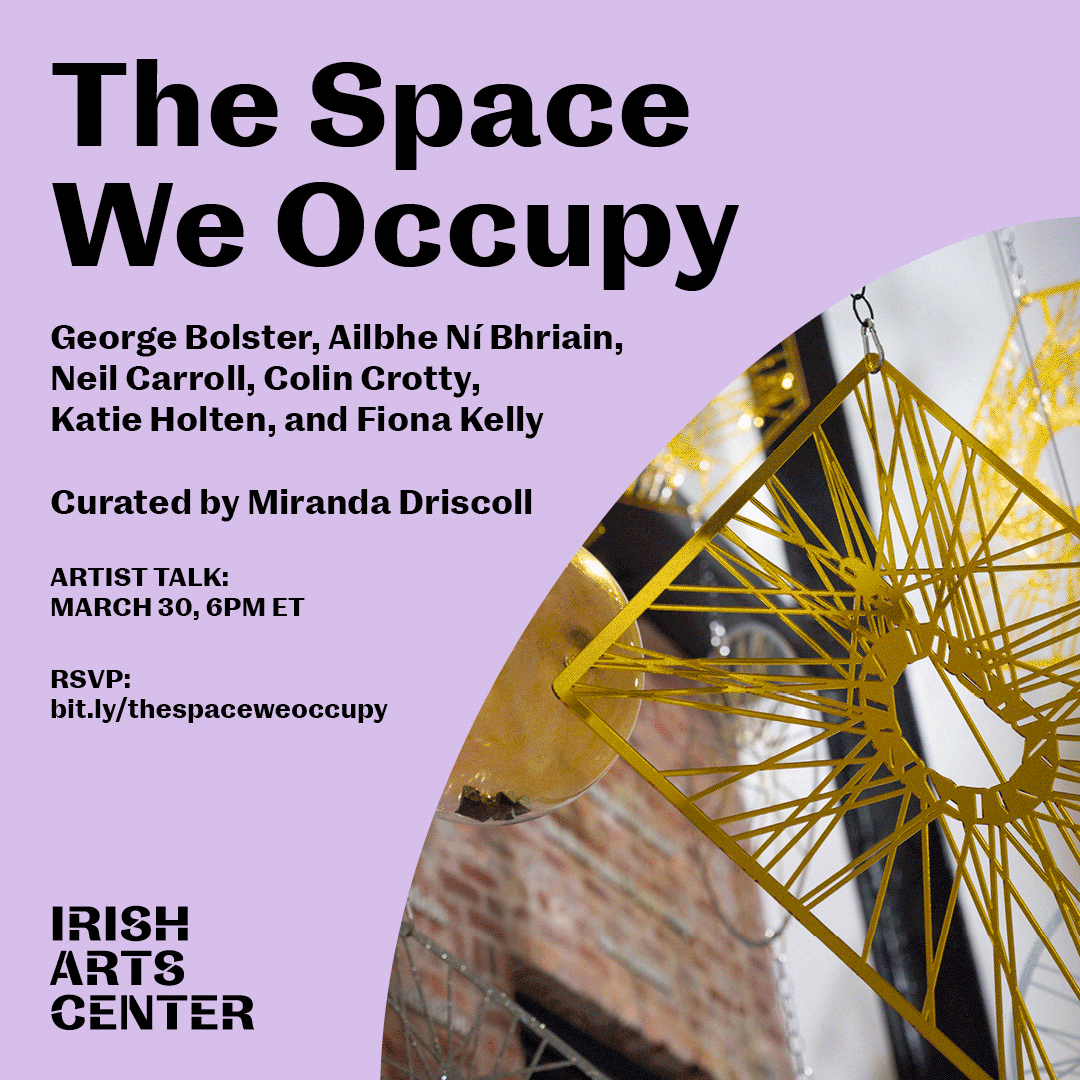 IRISH ARTS CENTER PRESENTS THE SPACE WE OCCUPY, THE INAUGURAL VISUAL ART EXHIBITION IN THE ORGANIZATION'S NEW BUILDING,
DECEMBER 8, 2021-MAY 22, 2022
The Space We Occupy, Curated by Miranda Driscoll—the First Curator-in-Residence in Irish Arts Center's Organization- Features Work from George Bolster, Ailbhe Ní Bhriain, Neil Carroll, Colin Crotty, Katie Holten, and Fiona Kelly

Multi-Media Activation of the Public Realms of 726 11th Avenue Marks the Opening of the New Irish Arts Center and Invites the Viewer to Consider the Space We Occupy During Our Short Time on Earth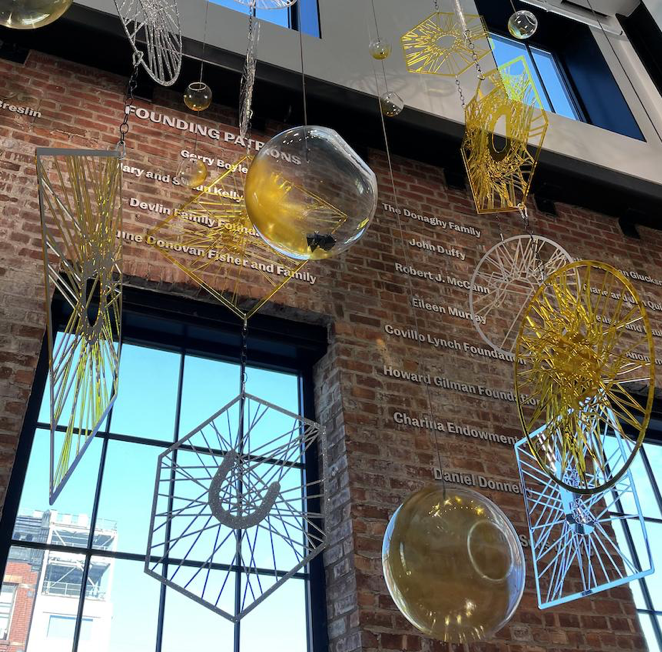 You Are Made of Stardust, George Bolster, 2021, laser cut acrylic, chain, motors, dimensions variable. Photo by George Bolster.



Irish Arts Center (IAC), based in New York City and renowned for presenting dynamic, inspiring, collaborative experiences of the evolving arts and culture of Ireland and Irish America in an environment of warm Irish hospitality, presents The Space We Occupy, an exhibition featuring George Bolster, Ailbhe Ní Bhriain, Neil Carroll, Colin Crotty, Katie Holten, and Fiona Kelly. On view from December 8, 2021-May 22, 2022 (with an Artist Talk March 30, 6pm ET), The Space We Occupy represents two significant firsts for the organization: the debut exhibition in its new building—which significantly expands Irish Arts Center's capacity for displaying visual art—and the first under its just-launched Curator-in-Residence initiative. Curated by inaugural resident Miranda Driscoll (executive director of Solas Nua, Washington, D.C., and former director of Sirius Arts Centre in Cork) the exhibit's six artists represent the breadth and depth of contemporary Irish visual arts. Here, they use installation, photography, print and drawing, as well as paint and plaster—the physical materials of the building's renovation—to mark its momentous opening. The viewer is invited to explore all four floors of the building to experience the works. December visiting hours are Tuesdays and Wednesdays from 6pm – 8pm, Thursdays, Fridays from 6:30pm to 8pm; Saturdays from 1pm to 8pm (starting December 13), and Sundays from 5:30pm to 8pm. The exhibition will be closed on Christmas Eve and Christmas Day.

The exhibition's title contains a multitude of meanings. It alludes to our relationship with place and time, from the macro to the micro—Earth's place in the solar system, humankind's time on Earth, the place we occupy in community, the physical space of the Irish Arts Center building and that occupied by the artist or viewer.

About Irish Arts Center

Irish Arts Center, founded in 1972 and based in Hell's Kitchen, New York City, is a home for artists and audiences of all backgrounds who share a passion or appreciation for the evolving arts and culture of contemporary Ireland and Irish America. We present, develop, and celebrate work from established and emerging artists and cultural practitioners, providing audiences with emotionally and intellectually engaging experiences—fueled by collaboration, innovation, adventurousness, authenticity, and the celebration of our common humanity, in an environment of Irish hospitality. Steeped in grassroots traditions, we also provide community education programs and access to the arts for people of all ages and ethnic, racial and socioeconomic backgrounds. In an historic partnership of the people of Ireland and New York, Irish Arts Center recently completed construction on a fully funded $60MM state-of-the-art new facility to support this mission for the 21st century.

PRESS CONTACT
Blake Zidell & Associates: blake@blakezidell.com
The Butter Museum

Public Art Commission 2021
Inflorescence

14 August – 31 October 2021

Curated by Maeve Lynch




Inflorescence is an exhibition by Cork Printmakers at The Print Gallery, Nano Nagle Place exploring themes of biodiversity, botany and ecology. The exhibition touches on issues of the environment, sustainability and biodiversity, taking in both micro and macro level viewpoints and referencing printmaking's historical depictions of botanical specimens. The exhibition takes inspiration from its location within the gardens of Nano Nagle Place as a historic site of contemplation and reflection.

Exhibiting Artists: Don Braisby, Anita Geaney, Sean Hanrahan, Fiona Kelly, Eimearjean Mc Cormack, Frieda Meaney, Cillian Moynihan, Nikki Tait


The Crawford Art Gallery
New Threads
24 July – 5 September 2021
Curated by Michael Waldron
Future Wanderings (2017) on display at The Crawford Art Gallery
New Threads showcases more than 20 artworks that have recently come into public ownership, made possible though major acquisitions funding from the Department of Tourism, Culture, Arts, Gaeltacht, Sport and Media.

The exhibition's title is inspired by one of the featured artworks, Ariadne's Thread(2013) by Jennifer Trouton, which borrows from an Ancient Greek myth and suggests an escape from the fabled Labyrinth. The painting provides a curious entry point from which visitors may follow – or tease out – new threads of practice and meaning in the collection.

In total, 225 artworks by 39 contemporary artists have been added to Crawford Art Gallery's collection in recent months, ranging from paintings, photographs, prints, and drawings, to sculptures, installations, digital film and sound works, textile and embroideries.

Curated by Michael Waldron
Install shot by Jed Niezgoda

The National Gallery of Ireland New Perspectives
Acquisitions 2011–2020

11 May – 2 August 2021


Future Forests (2018) on display at The National Gallery

Discover a decade of new acquisitions – many on display for the first time – in New Perspectives. The Gallery holds Ireland's national collection of art, a collection that is constantly growing and evolving through the addition of new works. These acquisitions augment and enrich the collection for the nation.

New Perspectives includes newly acquired Irish art, Western art, portraiture, works on paper, and archival material, featuring artists from Peter Paul Rubens (1577–1640) to Alice Neel (1900-1984), and Ilya Bolotowsky (1907–1981) to Mairead O'hEocha.


Works selected by Sean Rainbird
Curators | Janet McLean & Niamh MacNallyArts Council of Ireland



Arts Council of Ireland
My sincere gratitude to the Arts Council of Ireland on awarding me a Visual Arts Project Award 2021!!!

This research & development award is nessisary in the creation of new work for my upcoming Solo Exhibition at the SIRIUS Arts Centre 2022.



The National Collection

Homing- recent aquistition for the National Collection


The National Collection is the art collection of the State, which includes Crawford Art Gallery, IMMA, the National Gallery of Ireland, the Arts Council, and the Office of Public Works, for example. This acquisitions fund is therefore a major investment and vote of confidence in contemporary art, living artists, and the National Collection. As the cultural repositories for the country, the role of the National Cultural Institutions is to reflect Ireland and her people and tell the story of our country.


The Artworks

This is the first time in over a decade that substantial funding has been specifically allocated towards building the National Collection to reflect contemporary culture.The body of 422 artworks by 70 artists from across the country has been selected through a rigorous process by both institutions to ensure strategic and thoughtful acquisitions for the nation. Spanning from 1972 to 2021, the 225 works Crawford Art Gallery has acquired consist of paintings, photographic work, prints, drawings, sculpture, installations, moving image, sound work, film, digital work, embroidery and performance.

The Artists

Below is a list of the 39 artists whose work Crawford Art Gallery has acquired to add to the National Collection. We'll be profiling each artist on this list on our social media channels and website over the coming weeks and months in our #YourNationalCollection series: stay tuned for updates.

Aideen Barry, Sara Baume, Stephen Brandes, Angela Burchill, Declan Byrne, Elaine Byrne, Tom Climent, Yvonne Condon, Elizabeth Cope, Gary Coyle, Stephen Doyle, Rita Duffy, Amanda Dunsmore, Kevin Gaffney, Debbie Godsell, Michael Hanna, Marie Holohan, Katie Holten, Brianna Hurley, Andrew Kearney, John Keating, Fiona Kelly, Anne Kiely & Mary Palmer, Roseanne Lynch, Brian Maguire, Evgeniya Martirosyan, Danny McCarthy, Rosaleen Moore, Peter Nash, Ailbhe Ní Bhriain, Íde Ní Shúleabháin, Nuala O'Donovan, Sarah O'Flaherty, Tom O'Sullivan, Michael Quane, Jennifer Trouton, Charles Tyrrell, Daphne Wright.

#YourNationalCollection
Below & Time Between
Installation shot by Brian MacDomhnaill



We live on a restless Earth. To think in deep time can be a method of reimagining our problematic present; countermanding its hasty alterations and instabilities with older, slower stories of making and unmaking. An awareness of deep time brings us to consider our historical legacy, what we are leaving behind for the aeons and for the beings that will follow us.


Below, and Time Between is an interplay of two practices meeting through an experimental installation by artists Carol Anne Connolly and Fiona Kelly. Dealing with unfolding landscapes and methods of mapping, their work considers geological and political themes within the contemporary narrative of land use and deep time.





Below, and Time Between from Backwater Artists Group on Vimeo.

Video Podcast with artists Carol Anne Connolly and Fiona Kelly with arts writer and curator Sarah Kelleher.



Arts Council of Ireland

My sincere gratitude to the Arts Council of Ireland on awarding me a Visual Arts Bursary Award 2020!!!

This award gives me the time & space to develop new ideas and make outside of a deadline orentitated practice.
LOQUIUM
Loquium is a new online lecture series looking at the materialised forms of sculptural practices and the knowledge they produce. We hope to delve into the differences in artistic material enquiry and its material possibilities. We look to develop a new vocabulary to engage in discourses around how these sculptural enquiries lead into unknowable territories and spaces of not knowing where often the artistic research is not separable from the art itself and how artists themselves bring new thinking into the world that is often beyond traditional academic understanding.



Watch my lecture here



The National Sculpture Factory is a place of production; a place where artworks are always becoming, we are interested here not simply in the finished artworks themselves but the disparate origins of ideas that spur artists to make what they make.


Visions of an Unsettled Earth

– Panel discussion
'Visions of an Unsettled Earth' is an exhibition that explores ideas of temporality, transience and transformation in the environment. It features new and recent works created by the Cork County-based artists Debbie Godsell, Fiona Kelly and Sarah O'Flaherty.

Join us for a panel discussion with the artists and the Cork city-based art critic Sarah Kelleher on Saturday, 3 October, at 2pm.


Stories from Lismore & Beyond


Curated by Paul McCree
Lismore Castle Arts.



Interview on the Impact of Covid-19 on the Arts Industry.

Page currently under contruction....

(Also in the works)

Overburden, Triskel Arts Centre, Cork City, IE. (Closed early due to Covid19) Land of Some Other Order, Lavit Gallery, Cork,. IE (Lockdown / never opened)
Formed by Chance, Studio 12, Backwater, Cork City, IE. (Solo. Postponed until 2021)
New Impressions, Draíocht Arts Centre, Dublin,. IE. (Postponed, under review)
a field of multiple destructions, Lecture Series, National Sculpture Factory, IE. (Postponed)
Visions of Half-Light, Sirius Arts Centre, Cobh, IE. (Under review)